Nothing is more frustrating than having an issue with the roof of your home, especially if it's a leaking issue. No matter how minor or major your leak issue might be, it's pertinent that you address it right away to prevent any further damages from happening. If you procrastinate and let the problem get out of hand, you might be looking at even more costly repairs in your future — roof and interior repairs, to be exact.
Hometown Roofing, LLC., provides top-notch roofing services to the Dallas and Fort Worth communities, including roof repair for your leaky roofs. Our team of professional roofers has more than 34 years of experience, and we're proud to be properly and locally licensed and insured. We work on both residential and commercial properties, and we guarantee 100 percent customer satisfaction.
We also offer emergency services for the roofing problems that occur when you least expect them to. Need a roof repair service? Call us today for a free roof inspection.
In this blog post, we'll go over the 10 most common causes of leaky roofs so you can address any roofing issues you might have head-on and to prevent any further ones from occurring.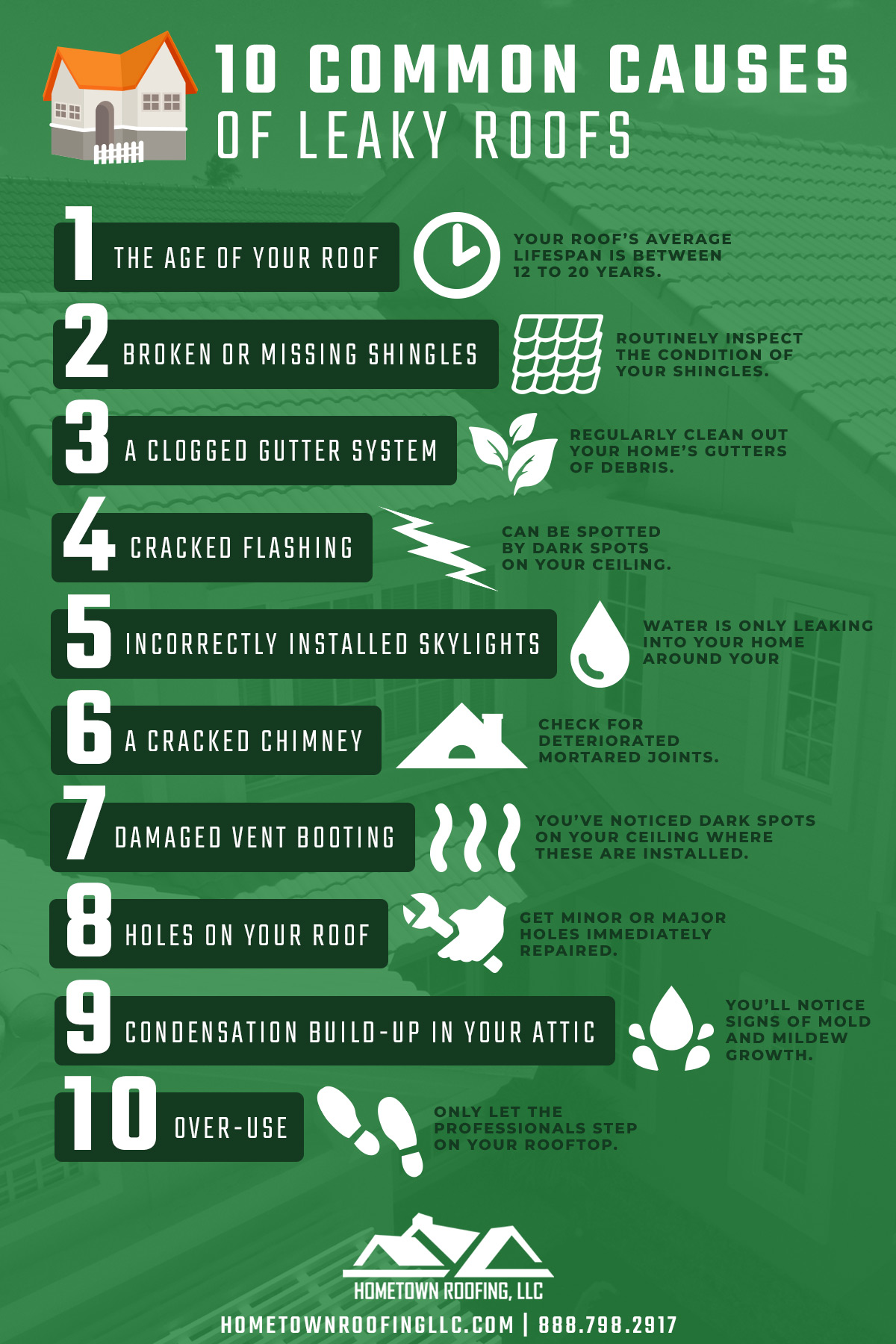 1. Your roof's age.
A great roof installation should last you anywhere between 12 and 20 years; however, our climate in Dallas/Fort Worth can be a little unpredictable. Harsh sunshine and rainstorms take their tolls on our roof, wearing them down over time. Even the best quality of roofing materials deteriorate with age, allowing more water to seep through your rooftop.
If you have an older roof, it may be time to start looking to invest in a roof replacement.
2. The shingles are broken or missing.
If you've noticed a few of the shingles on your roof are broken or maybe even completely missing, you might have an answer as to why those areas inside your home are leaking. This is one of the easier issues to identify since you can literally see the missing or broken spots on top of your home.
Your shingles might be missing or broken from inclement weather conditions that make their way through the area. It's important that you get them repaired immediately, especially before another storm rolls in and wreaks havoc on your home.
3. Your gutters are clogged.
Over time, the gutters on your home will get filled with leaves, sticks, tree branches and other natural debris, causing a clog in your system. When this happens, water can't flow through your gutters as efficiently as it should, causing it to overflow where it isn't supposed to.
We recommend performing regular maintenance on your gutters, either yourself or with the help of a gutter professional.
4. The flashing is cracked.
The flashing on your roof is the thin chunks of metal that are installed underneath your roof's shingles. This material is essentially a water-resistant barrier for your home, so if your flashing has cracks in it, chances are, water will seep through more easily.
This problem is another one that inevitably comes with age, between the wear and tear of the material and inclement weather conditions.
5. The skylights on your home weren't installed correctly.
If your home has skylights and you've noticed there are wet spots and leaks only underneath where these skylights are, your leak is likely from improperly installed skylights. Luckily, this is a pretty easy thing to initially spot and fix by a professional.
6. The chimney of your home is cracked.
Most chimneys are made out of bricks, and the mortar that locks them together can erode over time, especially when exposed to inclement weather conditions. If you've noticed the mortared joints or the flashing where the chimney and roof meet are starting to deteriorate, your home is more likely to experience a leak.
7. Your vent booting is damaged.
What's a vent boot, you ask? They're the small pipe-looking things that stick out of your rooftop. They're primarily used to get rid of any excess moisture inside your home. You can spot leaks from your vent booting because there will be dark spots on your roof.
If you've noticed any potential signs of vent booting leakage, contact a professional roofer immediately to get it repaired.

8. There are holes on your roof.
This one is an obvious one, but if your roof has any holes in it, no matter how small or large, you're going to have a leak. These holes might be from hail damage, a TV antenna removal or an entirely different situation. Regardless, your roof will be more vulnerable to leakage if you have holes on your roof, meaning you'll need to seek immediate roof repair.
Have a professional patch these up and fix them right away to ensure the interior of your home stays protected.
9. Your attic has condensation build-up.
If your home has an attic, you can tell if there's extreme condensation build-up in it if you are noticing any signs of mold or mildew growth. You might visibly notice these signs when in your attic, or you can also tell if there are strong, pungent odors coming from it.
This is a common roof leak issue because your attic is the part of your home that is closest to your roof. Have a professional scope out this issue and provide you with any necessary repairs.
10. You might be using it too often.
Do you have easy access to your rooftop from your window? Do find yourself sitting on your roof or getting on your roof to grab a ball or Frisbee your kid sent up there? Are you a DIY-er that tries to fix most of your roofing problems yourself?
If you frequently walk on your roof, you might be causing some problems that lead to leaks, as most roofing materials are pretty fragile. Try to avoid venturing on your rooftop, and call the professionals for any fixes or regular roofing maintenance you need.
Winter is coming which is why it's best to get your roof inspected now. Contact our team today for a roofing service for your Dallas or Fort Worth home.
Choose Hometown Roofing For Your Dallas Roofing Services
If you think any of these issues might be why your roof is leaking, or to prevent any future leaks, contact our team of roofers today for professional assistance. Whether you have hail damage, wind damage or a leaky roof from any of the issues above, we can tackle all roofing services in Dallas with ease and efficiency. Our certified contractors are proud to offer fast and reliable service so your home can get back to working (and looking) the way it was before damages.
For more information about our Dallas roofing services or to schedule a free roof inspection or another roofing service with our team, contact us today. You can reach us by calling (888) 798-2917 or by completing our online form.